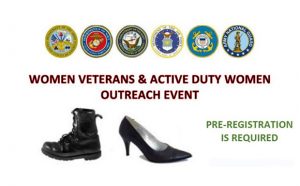 On Friday, February 23, 2018 in Havelock, NC; Veterans Employment Base Camp and Organic Garden along with NC Works Career Center, will host the 2nd Annual Women Veterans & Active Duty Women Outreach Event which will primarily benefit Active Duty women that are transitioning to civilian life and Women Veterans in Craven, Pamlico, Jones and Carteret County and is open to female veterans of all eras. Registration is required.
The Outreach event will be held Friday, February 23th from 9am-2pm at the New Beginning Ministry of Faith Campus at 30 Park Lane Rd. Havelock, NC 28532. The event will include speakers from Family Endeavors, Religious Community Services, Promise Place, VA Homeless Coordinator and Coastal Women's Shelter just to name a few. Registration is required. Free childcare, lunch and information bags will be provided along with barbers and counselors.
According to the Department of Defense, in 2010 more than 30,000 single mothers have deployed to Iraq and Afghanistan, and as of 2006 more than 40% of active duty women have children. The U. S. military now appears to recognize the unique impact that a military career and family exerts on women and have implemented transition policies and procedures intended to minimize the impact.  The problem is that some of these programs are just recently taking effect and female veterans need a better understanding of the effectiveness of military and civilian programs for women designed to minimize the impact that a career and family have on women and therefore the family unit. Registration is required, please call Ms. Reeshema Walker, DVOP, NC Works Career Center Craven County at 252-514-4828 ext. 241 or send an email.
Submitted by: Lovay Wallace-Singleton, Veterans Employment Base Camp and Organic Garden