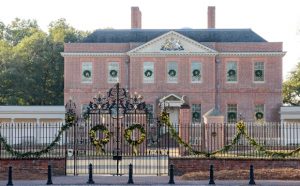 Monthly series to be held Dec. 15 at North Carolina History Center
The history and traditions of the holiday season during the 18th and 19th centuries will be the topic of Tryon Palace's next installment during its monthly Lunch and Learn series. "Holiday Traditions" will be held Friday, Dec. 15, at noon in the North Carolina History Center.
At "Holiday Traditions," attendees will learn the stories behind this year's "Seasons of Giving: A Candlelight Christmas Celebration" and explore associated holiday traditions. Twelfth Night celebrations in the 18th century and Christmas in the 1840s and 1860s will be discussed as well.
"Holiday Traditions" is a part of Tryon Palace's monthly lunch series.
Tickets for each event are $6 per person and free for Tryon Palace Foundation members. Visitors must bring their own lunch for these events. Each Lunch and Learn will begin at noon and guests will meet in Mattocks Hall inside the North Carolina History Center.
For more information call 252-639-3500 or visit TryonPalace.org.
Upcoming events at Tryon Palace include
December 16: Seasons of Giving: A Candlelight Christmas Celebration (Night Two)
December 18: Holiday Decor Behind the Scenes
December 19: Behind the Scenes: Museum Technology
Submitted by: Chelsea Payne, Marketing Specialist, Tryon Palace