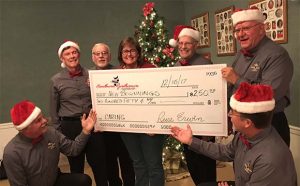 Expressing the Community's thanks through song, The Southern Gentlemen Barbershop Chorus presented a check for $250 at the recent Hope Clinic "Wine and Dine" fund-raiser to benefit New Beginnings, the year old substance abuse program. The event raised over $3000.
Hope Clinic, a nonprofit organization, has been providing free medical care to Pamlico County and surrounding communities for 18 years. In 2016, Hope began providing substance abuse assistance getting to rehab facilities, emergency needs provisions, emotional support, and family violence advocacy through New Beginnings.
The 25 year old Southern Gentlemen Barbershop Chorus is made up of thirty men who enjoy singing four part harmony.  Monies raised by the Chorus through their Singing Valentines project in February and their annual show in April help support their charitable giving to organizations such as Hope Clinic.
The Southern Gentlemen rehearse every Tuesday at the Cornerstone Assembly Church in James City at 7 p.m.  All men are invited to drop by and sample the joy of singing in the Barbershop style.  For more information, call 252-635-2961.
Submitted by: Bill Rust, The Southern Gentlemen Barbershop Chorus