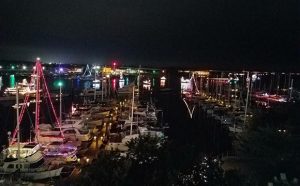 The New Bern Grand Marina Yacht Club and Nicole Dewar, New Bern Parks and Recreation, will present the 2017 Flotilla winners with gifts and awards this Friday, December 22nd, at 10am at the marina's administrative offices at 134 Craven Street, New Bern, for their participation in this year's Flotilla.
As one of the event sponsors, the New Bern Grand Marina Yacht Club teamed up with the City to provide this year's Flotilla winners with a slew of goodies this year in the interest of recognizing their effort and dedication to support this 33 year old holiday tradition in New Bern.  In the weeks preceding this community event, boats from all over feverishly prepare and decorate their boats with thousands of Christmas lights, moving and animated holiday characters, along with some creative visual effects that make the river sparkle and glow.
"This year's Flotilla had to be one of the best in recent years. Twenty-four boats participated to parade their "holiday spectaculars" up and down the Neuse and Trent rivers for all to enjoy. This was one of the largest years ever!  We noticed a concentrated effort by participants to provide a flotilla that offered something truly unique and entertaining, with stationary figures or decorations that towered well over 15-20 feet high, along with musically coordinated light shows.  It was amazing!  We hope to double participation next year and continue to build this event into something bigger and more spectacular each year" states Nicole Dewar, New Bern Parks and Recreation.
The New Bern Grand Marina Yacht Club offered all first place winners a gift certificate for a free two-night stay at the marina. The two highly sought after trophies returned and were presented to Dustin Tyson, who won Best Overall Power Boat, and to Ed & Nancy Childs, who won Best Overall Sail Boat. After much success last year, AT&T again offered Text-to-Vote, giving Flotilla spectators the opportunity to vote for their favorite entry.
"The New Bern Grand Marina Yacht Club has been a proud sponsor of this event for two years now and we couldn't think of a better way to help the community celebrate the season in "New Bern Grand Style" than by partnering with the City to help promote such a delightful event.  For the third year in a row, the marina has offered free dockage to all captains participating in the event off the marina's 700 foot long G dock.  We want everyone to enjoy this wonderful event and kick off the holiday season at the marina enjoying time with family and friends!" states Millissa True, on-site consultant and representative for the New Bern Grand Marina Yacht Club.
A number of other entrants also won secondary and third place awards.  They are:
Mike Thorsby– 1st runner up 25" and under – Powerboat
Don Simpson – 2nd runner up 25" and under – Powerboat
Bill & Lib Harris– 1st runner up 26"+ – Powerboat
Andy & Linda Garrow – 2nd runner up 26"+ – Powerboat
Troy & Mary Daugherty-  3rd runner up 26"+ Powerboat
Sean Bradford– 1st runner up 26"+ Sailboat
If you'd like to participate in next year's Flotilla, please contact Nicole Dewar at (252) 639-2902.
The New Bern Grand Marina Yacht Club has been referred to as the "Jewel of historic New Bern" and has been pictured and featured in many local and state and regional publications.  Walking distance and just minutes from New Bern's historic district, a host of quaint boutiques, The NC History Center and Tryon Palace, The Birthplace of Pepsi & Old Fashioned Soda Fountain and Store, fine and casual dining, along with several parks, walking trails, trolley rides and ghost tours; the marina claims title to simply one of the best destination marinas in eastern North Carolina.  A limited number of slips are available for purchase and a unique slip rental program which make living the lifestyle you've been dreaming of a possibility.  Services include WiFi service, HD cable with over 150 HD channels, valet baggage service, dine-in service, secure marina cam, pool and fitness center, yacht club facilities, hotel, dining and merchant loyalty discounts.  For more information, call The New Bern Grand Marina Yacht Club at (252) 633-6070 or go to NewBernGrandMarinaYachtClub.com.
Submitted by: Millissa True, SBS Forward, LLC, New Bern Grand Marina Yacht Club-On Site Consultant