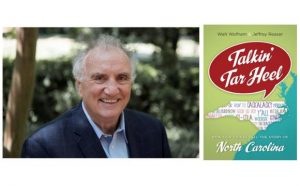 Historical Society Lunch & Learn: October 12
If you've ever spotted a whistle pig or know what a Kelvinator is, then you just might be fluent in Tar Heel. If you pronounce Buies Creek, Cashie River and Chicamacomico like a native, then you might be fluent in Tar Heel. The linguistic diversity and dialects of North Carolina will be the topic of the October 12 Lunch & Learn at the Chelsea Restaurant at 11:30 am.  Linguist Walt Wolfram will share stories, sights, and sounds from his book Talkin' Tar Heel: How Our Voices Tell the Story of North Carolina (UNC Press, 2014).
North Carolina's dialects go beyond the stereotypical Southern twang.  Wolfram explores the distinct dialects of African-Americans, recent Spanish-speaking immigrants, mountain residents, the Cherokee and Lumbee, and the Hoi Toiders – "High Tiders," a nickname for Outer Banks natives.
Walt Wolfram is William C. Friday Distinguished University Professor at North Carolina State University, where he also directs the North Carolina Language and Life Project. He has pioneered research on social and ethnic dialects since the 1960s and published more than 20 books and over 300 articles. He has written books on Outer Banks dialects, (Hoi Toide on the Outer Banks: The Story of the Ocracoke Brogue), Lumbee English, Appalachian English, and African American English in North Carolina, and with Jeff Reaser, published Talkin' Tar Heel: How our Voices Tell the Story of North Carolina (2014).
Lunch & Learn starts at 11:30 a.m. at the Chelsea Restaurant, 335 Middle Street, New Bern. The cost is $18 for Historical Society members and $20 for non-members; lunch is included. Advance reservations must be made in by calling the New Bern Historical Society at 252-638-8558, or can be ordered at www.NewBernHistorical.org/tickets. Lunch choices are: Shrimp and Grits and Pork Tenderloin with Blueberry Ginger Glaze, Garlic Mashed Potatoes with seasonal vegetables.
The mission of the New Bern Historical Society is to celebrate and promote New Bern and its heritage through events and education.  Offices are located in the historic Attmore Oliver House at 511 Broad Street in New Bern.  For more information, call 252-638-8558 or go NewBernHistorical.org or Facebook.com/NewBernHistoricalSociety.
Submitted by: Kathy Morrison, New Bern Historical Society