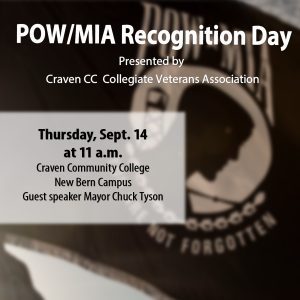 Craven Community College (Craven CC ) will hold a ceremony to observe the POW/MIA Recognition Day on Thursday, September 14 at 11 a.m. at the flagpoles at the entrance of the visitor parking adjacent to the Brock Administration building on the New Bern campus.
Dr. Ray Staats, Craven CC president, will lead the ceremony. The guest speaker will be Chuck Tyson, Mayor of Trent Woods and former college trustee; he will be sharing the story of his father U.S. Army S/Sgt. Charles F. Tyson, a World War II (WWII) prisoner of war. "I appreciate what the military has done for our country since its founding. It is only fair to recognize the missing in action and prisoners of war who fought for it," said Tyson.
The POW/MIA flag will be raised to honor those who endured imprisonment or never returned home during their service to our country.
The event is presented by the College Veterans Association at Craven Community College.
The National POW/MIA Recognition Day is observed the third Friday of September every year. Congress mandated the flying of the National League of Families' POW/MIA flag each year to raise honor prisoners of war and to raise awareness of those military service members who are still unaccounted for. According to the Defense POW/MIA Accounting Agency, there are 82,491 unaccounted for from past conflicts, including: WWII, Korean War, Vietnam Ware, Cold War, Iraq and other conflicts.
The public is invited to attend this free event.
Founded in 1965, Craven Community College (Craven CC) is part of the North Carolina Community College System. With campuses in New Bern and Havelock-Cherry Point, Craven serves about 3,200 curriculum students and more than 10,000 continuing education students each year. The college offers a wide range of associate degree and certificate programs, as well as college transfer courses, career and occupational offerings, partnerships with four-year universities, specialized workforce training options, developmental studies and basic skills classes. The Lifetime Learning Center and Adult Enrichment Program offer lifelong learning opportunities. Craven Early College High School programs are available on both campuses. CCC is also home to Public Radio East, one of the few community colleges nationally with this distinction. For more information about the college, visit CravenCC.edu.
Submitted by: Deborah Kania, Director of Communications, Craven Community College