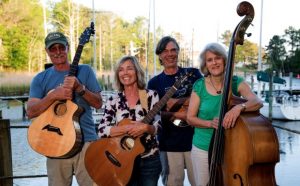 Featured Artist of the Month is Bob Welch and will be on hand to meet everyone at the front of the gallery.
Artist Statement: "Moving to New Bern in 2014, I was inspired by the dynamic arts scene," Bob says. "I picked up a paintbrush for the first time in 30 years. I paint mostly with acrylics, preferring palette knives, with brushwork as needed." After taking classes with local art luminaries Dan Nelson and Chris Wagner, Bob established Dragonfly Studios, his own space at CAW Center for the Arts. The cow, "Hazel," was among the first of his recent works to sell. Two of his original paintings were selected by sponsors to illustrate banners downtown in the Craven Arts Council's 2017 Banner Project. Bob says that he is "living proof that it's never too late to pursue your passions in life." Bob has spent his summer teaching art to participants in the Boys and Girls Club making art matter and helping to cultivate creativity in New Bern's future citizens.
Brant Island String Band will be playing out back of the gallery 6 – 8pm. Playing their own renditions of refined roots music, bluegrass, and inspired Americana bringing it to Artwalk outback. A show not to be missed and brand new to the New Bern area. Members of the band are Rick and Ginny Vogt guitarists, Becky Ackiss on stand up base, and Perry Cheatham on mandolin. The band harmonizes all their songs balancing all their voices blending all four singers into one.
The CAW Center also will pick the winner of a pet portrait raffle by noted animal artist Amber Williams created from a photograph. Tickets are $5 each or 3 for $10. So if you want an original portrait buy your ticket ASAP. Last chance.
The gallery is pleased to announce we are growing with two new artists joining the CAW art community Katherine Redman – who is a potter and Joya Barnett – a photographer. Amber Williams will be moving into her new studio space at the gallery so you can see more of her evolving pet portraits.
Submitted by: Susan Cheatham, Community Artist Will Center for the Arts