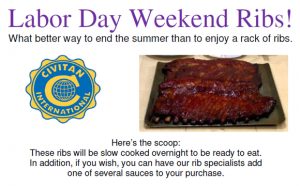 The New Bern Civitan Club with the support of the Piggly Wiggly Corporation will be sponsoring a "First Annual Ribs Extravaganza" on Saturday, September 2 from 8 a.m. to noon at the Piggly Wiggly store on 1208  Simmons Street (near Neuse Blvd.). A full rack of ribs will be $16 and a half rack will be $8. The Club will receive a portion of the money from these sales to use in its annual charity budget. These funds are distributed right here in our own community to assist local charities and our less fortunate neighbors.
These ribs will be slow cooked overnight to be ready to eat. In addition, you can have the rib specialists add one of several sauces to your purchase. You may reserve a rack for pick up on Saturday morning, September 2. You must pick up your order in the parking lot outside the store no later than 11 a.m. Any reserved ribs not picked up by then will be sold to the public.
Payment by check or cash is preferred. Checks should be made out to the New Bern Civitan Club. If you prefer to pay with a credit card, you will make your payment inside the store and then come outside to pick up your order.
Place your advance order by e-mailing Bexie Williams or calling 637-7348.  Order early as a limited number of ribs is for sale. If you order but cannot pick up your order on that day, let Bexie know. We will try to make arrangements to have the ribs delivered to you as a Club member.
What better way to end the summer than to enjoy a rack of ribs on Labor Day weekend and also be helping to support the charitable works of our Club.  Please try to participate in this fund raiser and let your friends and neighbors know so they, too, can enjoy the ribs!
Submitted by: Maureen Comer, New Bern Civitan Club