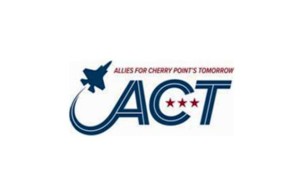 Allies for Cherry Point's Tomorrow (ACT) will host their 2nd Annual Sea to Table benefit dinner on Thursday, September 7 at the Crystal Coast Civic Center starting at 6pm. Tickets are $75 in advance ($85 after August 20). The benefit will feature a delicious three-course seafood dinner prepared exclusively by the Culinary Arts and Baking and Pastry Program at Carteret Community College, live music by the Crystal Coast Band, and an auction with some incredible bidding opportunities.
Last year's event sold out as 200 guests enjoyed a beautiful evening on the patio enjoying delicious food and drinks, great music and an important message about our base.
"Without the base, our local economy would suffer an annual loss of over $2 billion and that would be crippling," said Will Lewis, president of ACT. This fundraiser is a community event to celebrate MCAS Cherry Point and help people understand ACT's role in protecting and growing the base. With the new F-35 JSF program, Cherry Point is poised for positive growth, but that could change at any given time. ACT has achieved many critical milestones this year and will continue to advocate for MCAS Cherry Point, FRC East and its civilian enterprises. We count on the community's support for continued success.
Tickets to the event can be purchased online at AlliesforCherryPoint.com.
For more information about ACT and other ways you can support our mission, visit online at AlliesforCherryPoint.com.
Submitted by: Shannon LuQuire, Trade Ideas, Inc.