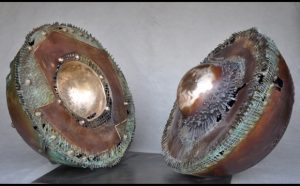 Five Professors from East Carolina University to Exhibit at Bank of the Arts
Craven Arts Council & Gallery is proud to present "Summer Session," an exhibition by five professional artists and professors at East Carolina University. The work in this exhibition was created by Hanna Jubran, Jodi Hollnagel, Robin Haller, Matt Egan, and Heather Muise. This exhibit will be on display in the Main Gallery at Bank of the Arts for the months of July and August.
The work in Summer Session was created by five professors from East Carolina University in their chosen mediums: Hanna Jubran, sculpture; Robin Haller, textile design; Scott Egan, printmaking; Jodi Hollnagel, sculpture; and Heather Muise, printmaking. This exhibit highlights their commitment to continuing to create and exhibit their work, despite the stress and rigors of teaching full time. Each of the artists are experts in their chosen fields, exhibiting work locally, regionally, and nationally.
Hanna Jubran is the head of the Sculpture Department at ECU. His work addresses the concepts of time, movement, balance, and space. Heather Muise draws from alchemical texts, Russian tattoos, tarot, and arcane symbols to deal with the concept of change, intentional or otherwise. She serves as a Instructor in Printmaking and Foundations at ECU, and has worked at the American University in Dubai. Jodi Hollnagel's work expresses her concepts and ideas on life, family, and current concerns of society. She has served as a visiting artist and associate professor at ECU since 1998. Matt Egan, head of the ECU Printmaking Department, seeks to create a narrative language about spectacular events in the real world. Robin Haller combines digital and traditional weaving techniques to create woven works that serve as abstract visual representations of her personal life and experiences. She is currently the head of the Textile Design Department at ECU.
For more information please contact Jonathan Burger, Marketing and Gallery Director, Craven Arts Council & Gallery, Inc. at the Bank of the Arts, 317 Middle St., New Bern, 252-638-2577
Submitted by: Jonathan Burger