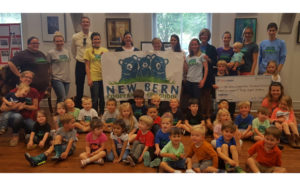 New Bern Cooperative Preschool has received more than $849 for the school's scholarship program through U.S. Cellular's "Community Connections" program.  New Bern Cooperative Preschool signed up to participate in this program and become eligible to receive sponsorship dollars from U.S. Cellular at pearup.com/uscellular and then rallied their neighbors, friends and family to earn money towards the school's scholarship program.
"We are proud to support organizations like New Bern Cooperative Preschool that have a positive impact in our communities. Being able to offer access to funds that aren't typically available allows them to provide the best experiences for our youth," said Jeremy Taylor, director of sales for U.S. Cellular in eastern North Carolina.
"Community Connections" is in its third consecutive year, and is an exclusive collaboration between U.S. Cellular and Pear, an online platform that connects local brands with local community needs. Since the program launched in 2015, U.S. Cellular has awarded nearly $900,000 in sponsorship dollars to more than 2,200 local school groups and youth sports teams through this program.
"As a cooperative preschool our community is essential to our success. We are unique within New Bern, not only for our strong approach to play-based learning, but with our philosophy that parents should play an active, participatory role in their child's education. Support from our families and extended community – to include U.S. Cellular and Pear – allow us to meet these needs within New Bern and extend opportunities to families through our scholarship program when they may not otherwise have the opportunity. We sincerely appreciate this partnership and look forward to continuing our participation." Said Lauren Faul, president, New Bern Cooperative Preschool Board of Directors
About U.S. Cellular
U.S. Cellular is the fifth-largest full-service wireless carrier in the United States, providing national network coverage and industry-leading innovations designed to elevate the customer experience. The Chicago-based carrier offers coverage where the other carriers don't and a wide range of communication services that enhance consumers' lives, increase the competitiveness of local businesses and improve the efficiency of government operations. U.S. Cellular has the Highest Wireless Network Quality Performance in the North Central Region, according to the J.D. Power 2016 U.S. Wireless Network Quality Performance Study, and 99 percent of customers have access to 4G LTE speeds. To learn more about U.S. Cellular, visit one of its retail stores or uscellular.com. To get the latest news, promos and videos, connect with U.S. Cellular on Facebook.com/uscellular, Twitter.com/uscellular and YouTube.com/uscellularcorp.
Submitted by: Melissa McIntyre, Public Relations Counsel, U.S. Cellular