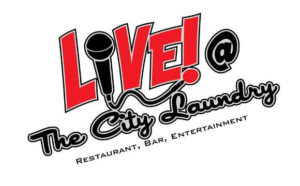 Wednesdays in June Pub Trivia with Austin Vaquilar, 7pm. Pub Trivia every Wednesday Night! Come and test your Trivia skills for an opportunity to win great prizes and have fun with friends! Join in the trivia tournament or find a nice cozy corner for a friendly game of Chess or Backgammon! Or bring the whole family to check out our selection of board games. It's all about bringing people together! The kitchen at Live will be cooking up some great compliments for an evening of fun.
June 1st, Smooth jazz with David Robinson, 6:30pm. Saxophonist David Robinson plays smooth jazz from the Great American Songbook. A nice relaxing starter for the weekend. There is no cover charge
June 2nd, Theatre Friends, 8pm. Piano accompanist Brandon Banks will play for some of our favorite local Theatre performers as they host a benefit for Theatre Friends. It's an impromptu performance to benefit local Performing Artists in need. This month's recipient is a local Actor who is going through multiple surgeries and needs a helping hand. The event is organized and hosted by John Van Dyke No Cover! A Donation of $10.00 is appreciated.
June 3rd, Improv Comedy Night, 8pm. The first Saturday of each month is Improv Comedy Night featuring some of the best teams from across the Carolinas. Come and explore the hilarious, unpredictable world of improv comedy. $7 Advance Tickets are available online and at our box office. Tickets will be available at the door on the date of the event.
June 8th and 22nd, Vintage Thursday with Alisa Mike, 6:30pm. Popular local singer Alisa Mike serenades us with jazz standards from the Great American Songbook. Vintage nights with Alisa are a wonderful trip back through time. She is a true Artist and a voice you must hear!" No cover charge.
June 9th, BRB Trio. BRB is a local band comprised of Patrick Bliss, Dora Bullock and Patrick Riddick. They play an acoustic mix of blues, pop music, rock, and country from Michael Jackson to NEEDTOBREATHE to the Dixie Chicks. The music is rhythmic and dance-worthy and the vocal harmonies are exquisite. $7 Cover.
June 10th, Johnny Mercer Tribute with John Van Dyke, 8pm. Van Dyke will stir up a powerhouse evening as he sings his way through the heartwarming music of Georgia's favorite son, songwriter Johnny Mercer. An iconic treasure, Mercer wrote the lyrics to more than 1,500 songs and underscored some of the most enduring moments in popular culture with such timeless tunes as "Moon River," "Autumn Leaves," "Black Magic," "My Shining Hour," "Come Rain or Come Shine," and many more. Tickets $15.
June 15th, Gabrielle Christie's Open Mic, 6pm. Local musicians, spoken word artists, and singers take the mic onthe third Thursday of each month. Singer and guitarist, Gabrielle Christie brings grace and charm to the event. Come out and be a part of this very cool gathering of local Artists. No cover charge.
June 30th, Stand up Comedy Night! Hosted by Matt White, 8pm. Winner of the "2012 Port City Top Comic" and 2013 "Carolina's Funniest Comic", Matt White's brand of observational humor mixed with improv and theatre elements engages audiences and leaves them giggling for days. Tickets $10.
For more information, please visit Live @ The City Laundry, 901 Pollock St. or call 252-876-7007.
Submitted by: John Van Dyke