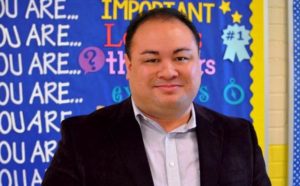 On January 25, 2017 the Craven County Board of Education and Arthur Edwards Elementary spotlighted Mr. Frederick Angoco, a teacher who has been a part of the Arthur Edwards family for over ten years.
Mr. Angoco is not only a leader at Arthur Edwards, he is a leader in the District and in the State.  Mr. Angoco has served as the Lead Teacher for the North Carolina Honor's Elementary Chorus, he currently is the Lead Teacher for the District Elementary Music Teachers, and Team Leader for the Specials team and in that capacity serves on the school Cabinet.
Over time he has received numerous PIE grants and other donations for the benefit of our school and students.  He started the AWEsome Treble Makers Show Choir that performs far above their grade level with choreographed numbers and numerous routines.  In the two months prior to going on break he was extremely busy, along with the Chorus.  The month began with the Show Choir providing a performance for Veteran's Day to our service members.   The following week he took a group of students that had auditioned, learned the songs and scored high enough to participate in Honor's Chorus to Winston Salem.  During the month of December he arranged for his students to sing at the Regional airport as passengers arrived or departed from New Bern.  They then performed two Winter Chorus performances.  The following day Mr. Angoco and the students from Honor Chorus were featured on the TV show, All About Craven.  Finally the Saturday prior to starting break a majority of the Show Choir sang and marched in the Havelock Parade.  They have been the only elementary school participating in this event for over five years.
Mr. Angoco is an asset to our school, our District, and our community.  He inspires students with music and many of his former students have gone on to pursue band or chorus in middle, high school, and beyond.  Arthur W. Edwards Elementary School is fortunate to have Mr. Angoco be a part of the AWE family.
Submitted by: Jennifer Wagner, Director of Public Relations, Craven County Schools