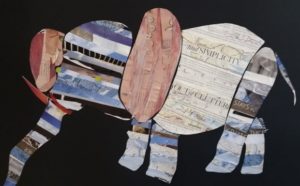 March 7 – 31, 2017
Craven Arts Council and Gallery is proud to host an exhibition of work from local area private schools in the Director's Gallery at Bank of the Arts this March. This exhibition will feature the work of art classes from Epiphany Global School and Annunciation Catholic School. Craven Arts Council will host an opening reception 5pm to 8pm on March 5th, during New Bern's Monthly Artwalk,
Art has been shown to have an integral beneficial effect on youth education in subjects from math and science to literary analysis. Bank of the Arts in pleased to reinforce these ideas by offering the students a chance to exhibit their works in a gallery setting. Jodi Tomboulain and Eva Glennon, art teachers at Epiphany and Annunciation respectively, have spent this year teaching their students not only the fundaments of art and design, but also art history, global cultures, and advanced craft based techniques. The exhibit will host a variety of subject matters and mediums, including ekphrastic drawing and poetry, animal collages, and painted panel iconography. The exhibition will be open March 7th to March 30th.
For more information please contact Jonathan Burger, Marketing and Gallery Director, Craven Arts Council & Gallery, Inc. at the Bank of the Arts, 317 Middle St., New Bern, 252-638-2577.
Submitted by: Jonathan Burger