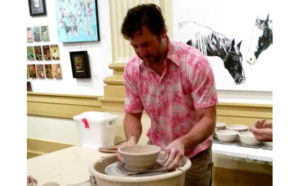 Local potters come together to make dishes for Empty Bowls Fundraiser
Craven Arts Council and Gallery is proud to host its 2nd Annual Pottery Throwdown in the Main Gallery at Bank of the Arts, January 13th during the Downtown New Bern ArtWalk, 5pm-8pm. Last year seven potters created more than 375 bowls in less than three hours, while raising awareness of the Empty Bowls event in February and educating the public on creating handmade pottery. This event is open and free to the public.
The Pottery Throwdown consists of seven local potters working to make as many bowls as they can in the three hour time. This year's potters will be Rich Daniels, Alessandro Cagiati, Carolyn Curran, Scott Haines, Christie O'Connell, Brent Wheelwright, and Shelley Mathiot. The first six will throw pots on wheels, with Mathiot demonstrating the cleaning and finishing process as they come off. Last year's event was a huge success, with people gathering to learn more about creating pottery by hand and the Empty Bowls event these pieces will support. The public will also be able to view and purchase pieces from the "Made in NC" exhibit on display in the Main and Director's Gallery. This exhibit showcases the work of local North Carolina artists.
Empty Bowls is a joint fundraiser between Craven Arts Council and Religious Community Services (RCS). The yearly event raises fund to support arts programming for the community and the local soup kitchen. Empty Bowls will take place February 23rd, 2017. Tickets will be on sale at the Pottery Throwdown and several other local venues.
For more information please contact Jonathan Burger, Marketing and Gallery Director,
Craven Arts Council & Gallery, Inc. at the Bank of the Arts, 317 Middle St.
Submitted by: Religious Community Services