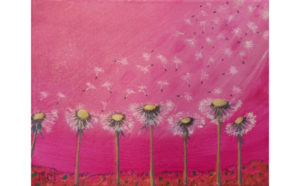 Nov. 11, 2016 from 5 – 8pm.
Local Artists recognize Military Brats for their service include Tina Hoard, Brenda Gear, Catherine Thornton, Blaine Kruger, Kristen Moffit, Lee Hood, Carol Jones, Lisa Bisbee Lentz, Dominick Giorgianni, Tammy Giorgianni, Joe Giorgianni and Jon Derby.
Greater Good Gallery owner, Lisa Bisbee Lentz explains, "Military kids were born into the service, moving place to place as their military parents get re-stationed. It's hard starting new schools, making new friends. We appreciate them by painting the official flower of the military child – the dandelion."
Earlier in 2016, Lentz met Bob Holliker who described his venture to make BratPins. Holliker honors those who followed their military parents serving our nation. Holliker says, "The concept for the BratPin began in 2009 when I contacted my US Congressman, Bob Latta (R/OH), and asked him why America's Military Brats have never been recognized for their – for our – service to our nation."
An Anonymous quote further illustrates how the a dandelion represents Military Brats: "The official flower of the military child is the dandelion. Why? The plant puts down roots almost anywhere, and it's almost impossible to destroy. It's an unpretentious plant, yet good looking. It's a survivor in a broad range of climates. Military children bloom everywhere the wind carries them. They are hardy and upright. Their roots are strong, cultivated deeply in the culture of the military, planted swiftly and surely. They're ready to fly in the breezes that take them to new adventures, new lands and new friends.
Experts say that military children are well-rounded, culturally aware, tolerant, and extremely resilient. Military children have learned from an early age that home is where their hearts are, that a good friend can be found in every corner of the world and in every color, and that education doesn't only come from school. They live history. They learn that to survive means to adapt, that the door that closes one chapter of their life opens to a new and exciting adventure full of new friends and new  experiences." ~ Anonymous
For more information on the BratPin, visit BratPride.com.
The dandelion paintings will be on display at Greater Good Gallery at 228 Craven St, New Bern, NC for the month of November 2016. For more info, visit GreaterGoodGallery.com
Submitted by: Lisa Bisbee-Lentz, Artist Representative