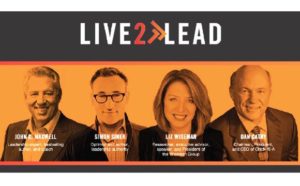 A leader development experience designed to equip you with new perspectives, prac­tical tools and key takeaways. You'll breathe new life into your leadership during this information-packed day event. Learn from world-class leadership experts in the morning and return to your office ready to implement you new action plan and lead with renewed passion and commitment.
Simulcast:
Friday, October, 21, 2016
Morning Sessions 9:00 am – 12:30 pm with Networking Lunch from 12:30pm – 1:30pm at The Flame Catering and Banquet Center, 2301 Neuse Blvd.
Tickets are $65.00 (includes networking lunch)
For tickets, visit NewBernChamber.com  Click on the L2 link at top of page.
For additional information on speakers visit L2NewBern.com.
Inquiries call Pam Pippin at 252-944-8803, Pippin Resource Group.
Brought to you by The New Bern Chamber of Commerce in partnership with Pam Pippin along with Potash Corp, Executive Personnel Group, CarolinaEast Health System, U.S. Cellular, AG Salem and Associates, University of Mount Olive, and Chick-fil-A.
Submitted by: Melinda Mowry Director of Sales, DoubleTree by Hilton New Bern – Riverfront