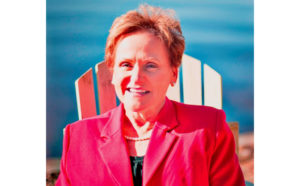 As your new Real Estate Contributor to "New Bern Now," I thought a great place to begin is to tell you a bit about myself.
My History
I moved to New Bern from a town about 50 miles north of New York City, with my husband Tom, in the year 2000.
As a Realtor and contributing writer, I draw upon an array of professional experiences that I believe will bring value to "New Bern Now" readers.
I graduated from The City College of New York with a BA in Psychology and worked in social services for several years. Then I decided to seek employment in the private sector where I worked in Marketing for fifteen years.
Upon moving to New Bern, I worked as a pre-school teacher with the First Presbyterian Pre-school. In my spare time, I enjoy assisting Weight Watcher's members with all aspects of their weight loss experience.
Finally, volunteering in the community is very important to me. There are two organizations, in which I'm currently active. One is The East Carolina Council on Aging, Adult Care Committee, where I serve as Chair. The second is The Department of Social Services, where I serve on the Board of Directors.
Now I am enjoying myself serving the New Bern community as a Broker/Realtor.  It was a long-time dream to become a Broker as I enjoy helping people meet important goals in their life. Nothing is more important to me than my clients.  A satisfied client is my success.
The Current State of the New Bern Market
There is good news for sellers in New Bern. There has been a decrease in days on the market from 157 days in July 2015 to 114 days in July 2016. More good news for New Bern sellers is the Sale to Original List Ratio has gone up, from 91.8% in July 2015 to 94% in June 2016. This means Realtors are pricing properties competitively and they are moving at or very close to the original list price. Source: FlexMLS Eastern NC
What's Happening in the Nation
The National Association of Realtors' most recent Existing Home Sales Report revealed that home sales were up rather dramatically over last year in five of the six price ranges they measure.
Sales of homes in the $100,000 – $250,000 range were up 9.7% whereas homes in the $250,000 – $500,000 range increased by double digit percentages.  Sales in the $750,000- $1 million range showing the largest increase, up 16.7%!
As prices in many markets continue to accelerate, it is no surprise to see the percentage of homes in the higher price ranges increasing.
Source: Keeping Current Matters
So as you can see, the market is improving not only here in New Bern, but nationally. That is really good news.  I hope this information encourages your outlook on the market.
I really want this to be a two-way conversation, meaning if you have any real estate questions, I would love it if you'd email me directly. This will ensure I'm addressing the aspects of the real estate market most important to you.
That's it for now…until next post…
Catch me later…
Laraine
By Contributing Author: Laraine Mark, Mark Realty Group, Neuse Realty