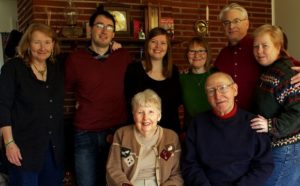 What does Father's Day mean to you?
Although this is my first year without my Dad, I wanted to pay a special tribute to him on Father's Day. Please know that we are relieved that his suffering is over and we believe that he's in a better place!
My Dad was a New Years baby born in 1927, he lived a long and happy life. I suppose anything would be happy after growing up through the Great Depression, which began in 1929 and lasted until 1939, but probably continued into the early 40s.
My Folks grew up during those horrific times. Instead of becoming bitter, they did their best to instill a sense of selflessness into their children.
Their idea of a good time was to watch the boats travel through the locks of the Welland Canal in Canada, take camping trips with their friends, and dance the night away to the Big Bands and Swing Music at the local dance halls. To them, drugs didn't exist because they were high on life, even during the Depression. They made the most of what they had.
I am beyond grateful for my Dad (and Mom). They taught us how to enjoy the simple things in life, respect our elders and each other, get out of the house and play, and take time to enjoy the great outdoors.
There were many times that I did things "the hard way" instead of taking Dad's advice, but every time I did, it came back to bite me in some way.
Most of our family vacations were taken in Allegany State Park in NY. That's where Dad shared his passion for fishing and shared his outdoor skills with my late brother, Warren and I.
My earliest memories are when I was 6 or 7. During my excitement of trying to catch "the big one", Dad was constantly reminding me to look back before I cast to make sure I didn't hurt anyone. One day, I didn't look back and hooked Dad pretty good…the hook was embedded in his arm. I think this was the only time growing up that I remember him going to the hospital. During the drive, I watched the worm wiggle on the hook. I was crying and he assured me that everything was going to be alright. Looking back, I'm sure that Dad left the worm on the hook just to get a few laughs at the hospital. He had what some may call "a dry sense of humor"…but I loved it!
That was the beginning of Dad's lifelong learning lessons for me.
He was kind, caring, smart, easy going, and fearless to mention only a few of his many endearing qualities.
He taught us to respect nature and assured us that we had nothing to be afraid of when we saw bears at the trash dump. He told us that they were more afraid of us than we were afraid of them. I was skeptic at first, but I've spent hundreds of hours in the woods coming out without a scratch.
He was a naturalist, hockey player, golfer, wood craftsman…but nothing compared to his true love of 66 years, my Mom.
No matter where I was, he was always there for me to ask him for advice.
When he taught me how to drive, he made sure I knew how to change a tire, maintain the vehicle, and keep an emergency box in case I broke down in the middle of nowhere.
He did his best to prepare me for what life had in store for me. It was on me if I didn't heed to his advice … as it was more than likely that he was right.
My Dad, Roland Card, succumbed to Alzheimer's/Dementia in October of last year, but I'm so thankful that he's not suffering anymore.
I believe his modesty, integrity, and kindness will continue to inspire me and hopefully those who knew him.
Thinking back on how tough life must have been for my folks, they never complained. Growing up, they didn't have television, computers, advanced medical technology, and all the other things that we take for granted.
Today, most of what we hear on the news or in our daily life is people complaining about how bad things are. They are difficult, there's no question about it, but take a moment to reflect and realize that they could be much worse.
I'm so very thankful to my Dad for teaching us those important life lessons.
What lessons do you remember from your Dad? If you're a Dad, what lessons are you going to teach your children?
Happy Father's Day to all those Dad's out there, relax, and enjoy your day!
Tell us what you think sending us an email. Visit New Bern Now's Facebook page or sign up for the latest updates by submitting your email address in the right margin on New Bern Now's website.
Wendy Card