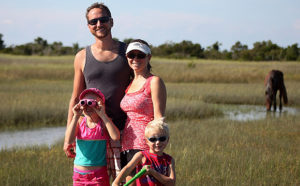 We caught up with Captain Jess Hawkins, owner of Crystal Coast Ecotours, to learn more about their specialized tours.
Listen to our interview with Capt Jess Hawkins and find out what you'll encounter during one of their tours:

They offer a variety of 15 activities so you can choose what you want to do.
Capt Jess said, "We're so blessed on the Crystal Coast that we have numerous, beautiful things that people can experience and hopefully create a memory of a lifetime."
Here's your chance to watch the wild horses on Shackleford Island as Capt Jess shares the history of the wild mustangs and explains how they are taken care of Federal Government and the Foundation for Shackleford Horses.
They'll also take you shelling on Shackleford and Core Banks for beautiful shells.
If you'd like to go clamming, they'll provide rakes and go out to spots where you can take a handful back with you. Capt Jess will even give you some great recipes so you can enjoy the taste of the succulent seafood.
You can also take a trip to find sand dollars (keyhole urchin skeletons), among other unique finds. Capt Jess said, "The older folks really enjoy watching the kids exploring".
If you want to learn more about fish, Capt Jess pulls seine nets and catches hundreds if not thousands of fish and he'll put a sampling into a bucket. He will tell you what kind of fish they are, a little bit about their life, and how important they are to North Carolina.
They also have some wonderful opportunities to look for seabirds, coastal birds, and sometimes they'll take you to rookeries where the birds make their nests and have their young. You can observe gulls, terns, herons, ibises, egrets, all concentrated on barrier islands that don't have any predators.
Other times they'll take you out to observe waterfowl and shorebirds like black skimmers and oyster catchers to name a few.
You can also go crabbing! Capt Jess will set crab pots off of his docks and he also shows you how to use hand lines to try and catch blue crabs with fish heads. He said, "This is something that folks in New Bern should be accustomed to as New Bern has one of the best crabbing rivers." They try to expose people to that experience in Carteret County.
Since fishing is one of his main recreational hobbies, he really enjoys taking families fishing. He has all the gear and the bait. They'll try to catch some bottom fish or cast for some mackerel or blue fish. This is easy fishing that's not too hard or stressful.
Other times he will take you out to explore the tidal flats. There are a lot of animals and creatures that like to live in areas that are exposed during low tide like horseshoe crabs, worms, moon snails, and he shows people how to find them and tells them about the life of the animals.
Another experience that you might really like is to watch bottlenose dolphins. Capt Jess will tell you about their biology and how North Carolina is a special place for the bottlenose dolphin. A couple of weeks ago when they were looking for the dolphins, they actually saw a couple of humpback whales as the dolphins were feeding around the whales.
There's a lot of different ways that you can explore the Crystal Coast and have fun!
Captain Jess loves teaching and is very passionate about teaching young adults about marine life and exposes them to the natural wonders we have in Eastern NC.
He's a Marine Biologist. He teaches Coastal and Fishery Ecology at the Marine Lab for NC State. He's taught at Duke University's Marine Lab and until last year, was an Educator at the NC Aquarium at Pine Knoll Shores for the past nine years. He's also a recipient of the NC Governor's Long Leaf Pine Award and was named Conservationist of the Year by the NC Wildlife Federation in 1994.
Captain Jess Hawkins was born and raised in Bath, NC, on the Pamlico River. He started the Crystal Coast Ecotours as a small family owned business nine years ago and enjoys meeting wonderful people. Captain Jess said, "The first time I saw the horses I was amazed, so I get to do ground hog day and relive that every time the folks see the horses for the first time or see the dolphins come up beside the boat or dig up the clam for the first time so it's like reliving your experience over and over again. So it's a true blessing".
They're proud of the Trip Advisor independent reviews from their customers which have rated them the #1 Outdoor Activities to do in the Morehead City area for four years in a row. They have Certificates of Excellence from Trip Advisor based on their customer reviews. They are also one of a few selected businesses in North Carolina listed by the website Responsible Travel, an international firm that promotes ecologically responsible tourism companies.
For more information, visit CrystalCoastEcotours.com and their Facebook page or call 252-808-3354.
Visit New Bern Now's Facebook page or sign up for the latest updates by submitting your email address in the right margin on New Bern Now's website.
Wendy Card