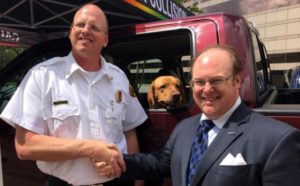 A North Carolina arson K-9 team from New Bern Fire-Rescue recently received the keys to a donated K-9 vehicle during an arson awareness event and accelerant detection demo during National Arson Awareness Week this week, Wednesday, May 4, 2016, at the Capitol in Raleigh.
The vehicle was donated to New Bern Fire Marshal Danny Hill and K-9 partner Darby to provide safe and adequate transportation in a vehicle modified for use by a canine team.
The vehicle donation is a joint project of the State Farm Arson Dog Program, Caliber Collision of Cary/Maynard and Recycled Rides. State Farm donated the vehicle, which was then refurbished by Caliber Collision of Cary/Maynard associates who volunteered personal time to repair the vehicle as a community service project. Other local businesses that donated materials and services include CrossRoads Ford, LKQ Corporation, Axalta, and Enterprise Rent-a-Car.
State Fire Marshal and Insurance Commissioner Wayne Goodwin joined local representatives from State Farm, Caliber Collision, and emergency fire responders to present the donated vehicle and highlight the importance of arson awareness and local efforts to combat the serious crime that destroys countless property and lives.
Submitted by: Colleen Roberts, Public Information Officer, City of New Bern