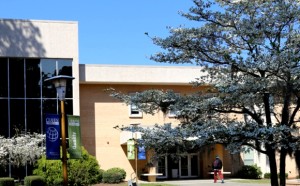 Where: Craven Community College – New Bern campus, 800 College Court
When: Saturday, May 14 at 9 a.m.
Who: Graduates receiving degrees, diplomas and certificates will participate in the ceremony. Greg Smith, owner and manager of historic Mitchell Hardware, will be the commencement speaker. Smith and his business received the 2014 Community Fabric Award for Excellence in Business Leadership from the Craven Community College Foundation. Smith is a graduate of Sandhills Community College and N.C. State University. Smith has been a longtime supporter of small businesses through his work with the New Bern Area Chamber of Commerce and Downtown Business Council.
Why: The commencement event is the culmination of the academic year and celebrates the accomplishments of the 647 graduating students in the class of 2016 from Craven Community College. These students earned 1,048 certificates, diplomas and degrees. The youngest graduate is 16 years old and the most mature graduate is 66 years young.
In case of inclement weather, please check our website for status/updates: CravenCC.edu.
Submitted by: Deborah Kania, Director of Marketing, Communications & Development Liaison, Craven Community College