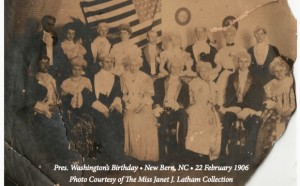 To Celebrate Its Sixth Anniversary & The 225th Anniversary of Pres. Washington's Southern Tour
With a Presentation about The First Families of NC by Historian & Author John Anderson Brayton
The Family History Society of Eastern North Carolina will celebrate its sixth anniversary and commemorate the 225th anniversary of President George Washington's 1791 Southern Tour on Sunday, April 17, 2016, at 3 p.m., at the Broad Street Christian Church Fellowship Hall, 802 Broad Street, New Bern, North Carolina, with a free, special presentation about the First Families of North Carolina by historian and author John Anderson Brayton of Memphis, Tennessee.  A Martha Washington Reception will be featured.
Mr. Brayton is a noted author of four volumes about the first families of North Carolina.  He is also the author of many other books including "The Complete Ancestry of Tennessee Williams" as well as numerous volumes about early North Carolina and Virginia records.  He is the official genealogist for the Order of First Families of North Carolina which was founded in 1992.  The OFFNC has over 350 members and more information including a list of some of the early families of North Carolina is available at OFFNC.org.  A listing of Mr. Brayton's books is available at and his books will be available at the event.  Pre-orders are encouraged to insure availability.
The FHS of ENC is pleased to partner with the following organizations to host the event:  The Albemarle Genealogical Society, Craven County Genealogical Society, Dryborough Historic Association, Family Research Society of Northeastern North Carolina, Hyde County Historical and Genealogical Society, Johnston County Heritage Center, Jones County Historical Society, North Carolina Genealogical Society, North Carolina Scottish Heritage Society, Pamlico County Historical Association, Perquimans County Restoration Association, Pitt County Family Researchers, Pitt County Historical Society, Richard Dobbs Spaight DAR Chapter, and the Tyrrell County Genealogical and Historical Society.  Many of the partners will have historical books, journals, and other items of interest available for purchase.
The FHS of ENC was organized in 2010 to celebrate the rich, cultural heritages of the people of Eastern North Carolina area from the early times to the present. Since its formation, it has hosted and co-hosted over thirty area historical events including four ENC Family History Fairs.  Its main ENC community project is the development of the future Heritage Park in downtown New Bern next to City Hall on Pollock Street.
This special Spring history event will be a time for everyone to visit and learn more about the early families of North Carolina whose descendants are now found all over the globe and to commemorate President's Washington's historic 1791 visit to North Carolina. The event is free and open to the public and everyone is welcome. To assist us in planning and for more event information, please pre-register at ENCFamilies.org or call (252) 349-0405.
Submitted by: David French, Director, The FHS of ENC, 252-349-0102.