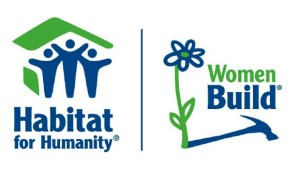 Women Build Honorary Chair Tharesa Lee, Habitat for Humanity of Craven County, and Lowe's Volunteers set to celebrate Habitat's National Women Build Week on May 6 and 7 in New Bern.
Tharesa Lee, 2016 Chair of the New Bern Chamber of Commerce and the Honorary Chair of the 2016 Women Build in New Bern, will be joining more than an expected 60 volunteers over two days over the first weekend in May on behalf of Habitat Craven.   Volunteers from the community and Lowe's Heroes employee volunteers are scheduled to help a local family build a decent and affordable place they can call home. This event is part of Habitat for Humanity's National Women Build Week, which takes place from April 30 – May 8. The project also supports "Home for the Holidays," a nationwide initiative launched by Lowe's and Habitat for Humanity to work alongside 1,000 families to help them build or repair their homes by December of this year.
Habitat for Humanity's National Women Build Week is a week long event created by its Women Build program that invites women to devote at least one day to help families build strength, stability and independence through housing. The week is meant to spotlight the homeownership challenges faced by women. Lowe's donated $2 million to Habitat's 2016 National Women Build Week and will provide the support of Lowe's Heroes employee volunteers. The home improvement chain will also conduct how-to clinics at stores to teach volunteers construction skills.
What: Women Build Days with Habitat for Humanity of Craven County and Lowe's Heroes as part of National Women Build Week.
When: Friday, May 6 and Saturday, May 7. Two shifts available: 8:00 to 11:30 am, and 12:00 to 3:30 pm. Registration for each shift begins 30 minutes in advance of the scheduled shift time.
Where: Habitat Home #61 at 854 Howard Street, running parallel with George Street, on the other side of the Cedar Grove Cemetery.
Who: Women of all ages are invited to participate. Six different volunteer team options exist (Volunteer Management, Public Relations, Food Service, Fundraising, Special Event Management, and Construction) because there is more than construction that can be done – before, during, and after the event.
How: Contact Habitat Volunteer Coordinator, Deedra Durocher, at 252-633-9599 for information and to register to participate.
More than 300 Habitat for Humanity organizations across the country are hosting Women Build projects this year.
Submitted by: Deedra Durocher, Resource and Volunteer Coordinator, Habitat for Humanity of Craven County