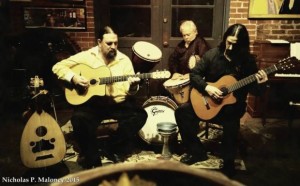 Saturday, April 30, 2016
The Brown Pelican, 411 Broad St.,
Downtown New Bern
Sam the piano man has taken the night off.  The music is provided by a motley but capable trio of musicians: a guitarist from Paris; a drummer who's been living in Turkey; and a violinist from Eastern Europe, who occasionally swaps out with a local oud player.  Their music, laced with favorite themes from the Silver Screen, takes you from Russia to Brazil to Persia to who knows where?
Tom Spellman is Casablanca's guitarist, playing both nylon-stringed Classical guitar and steel string guitar.
Glenn Druhot plays drum set, djembe, bongos, and other percussion instruments.  With sticks, brushes, or hands, Glenn lays down the beat!
Simon Spalding plays violin, guitar, and oud, the fretless lute of the Orient.
All three members of Casablanca are instructors in the teaching studio of Fuller's Music House in New Bern, where they met.
Casablanca recreates Rick's American Bar on Saturday, April 30, at The Brown Pelican, 411 Broad Street in downtown New Bern.  The music begins around 8pm, continuing until 11pm.  There is no cover charge.
Call 252-631-5008 for more information. For information on the band, contact Simon Spalding at 252-636-1256.
"Casablanca will take you on a musical magic carpet ride to destinations both familiar and exotic… the sound of Casablanca is an exotic mix, as if Gypsy Jazz musicians from Paris were joined by local Moroccan players." – New Bern Magazine
To hear live performances of Casablanca, follow these links:
Swing 42 – http://www.youtube.com/watch?v=37vYkak-qmo
Katyusha – http://www.youtube.com/watch?v=AMU8S-ZLY3Q
Take Five – http://www.youtube.com/watch?v=SWEF2X9S6Ow
Submitted by: Simon Spalding