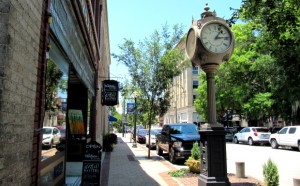 25th: New Bern Honors First Native-Born Governor Richard Dobbs Spaight, 2:00pm at Spaight's Gravesite on Madame Moore's Lane. Call 252-639-3500.
25th: Durty Dub in Concert, 10:00pm at Mickey Milligan's.
26th: "Easter Bonnet Fantasy", 8:00am – 2:00pm at the New Bern Farmers Market. Call 252-633-0043.
26th: UPS Store of New Bern hosts Free Shredding Day, 10:00am – 1:00pm at 1822 S. Glenburnie Rd. Shredding services provided by Iron Mountain. Non-perishable donations welcome for RCS. Call 252-637-7500.
26th: Easter Egg Hunt, 10:00am – 3:00pm at Tryon Palace. Call 252-639-3524.
26th: At the Gallery: Dorothy Fields, 7pm, Bank of the Arts. Call 252-638-2577
Tell us what you think by commenting below or sending us an email. Visit New Bern Now's Facebook page or sign up for the latest updates by submitting your email address in the right margin on New Bern Now's website.
Wendy Card