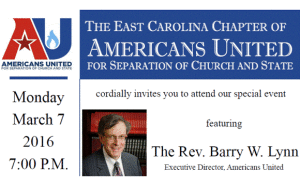 The Rev. Barry W. Lynn will discuss Church-State Separation in free lecture
The Rev. Barry W. Lynn, Executive Director, Americans United for Separation of Church and State, will speak at the Unitarian Universalist Fellowship of New Bern on March 7 at 7:00pm. Author of the recently published book God & Government: Twenty-Five Years of Fighting for Equality, Secularism, and Freedom of Conscience, Lynn will  speak on "Separation Anxiety? The Future of Church-State Separation." The event is free and open to the public.
Lynn, a member of the Washington, D.C., and U.S. Supreme Court bars, earned his law degree from Georgetown University Law Center in 1978 and received his theology degree from Boston University School of Theology in 1973.  Lynn has led Americans United since 1992.
Lynn is a frequent guest on cable news programs on CNN, Fox News, MSNBC, and other networks. He writes frequently on religious liberty issues and has had essays published in such outlets as USA Today, the Los Angeles Times, The Wall Street Journal, and The Huffington Post website.
Lynn has received many national awards, including the Freedom of Worship Award from the Roosevelt Institute, the Puffin/Nation Foundation's Creative Citizenship Award, and the American Humanist Association's Religious Liberty Award.
The Unitarian Universalist Fellowship is located at 308 Meadows Street in New Bern.
Americans United is a religious liberty watchdog group based in Washington, D.C. Founded in 1947; the organization educates Americans about the importance of church-state separation in safeguarding religious freedom.
Submitted by Connie Casey at the request of Patti Gillespie, Chapter President