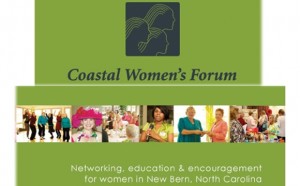 The Coastal Women's Forum will hold its next Lunch Meeting from noon to 1:00pm on Wednesday, March 16 at the New Bern Golf and Country Club.
Registration will begin at 11:30am. The cost is $15.00 for members and $20.00 for guests.
This month's speaker will be interior and visual designer, Margaret Volney, owner of Blue Envelope Designs. She will present innovative ideas, and techniques to visually promote your business or organization, and relay your message through eye-catching displays. Margaret will also share general design tips everyone can use.
Pre-registration is required by noon on Monday, March 14. Check or cash payment will be  accepted at the door. membership. For more information, or to register, contact Lunch Coordinator, Sandy Eichelberger at 301-938-4836.
To learn more about what Coastal Women's Forum has to offer, or to register online, visit CoastalWomensForum.com.
Submitted by: Penny Zibula, Six Legs Will Travel