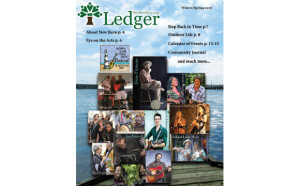 Please send us your non-profit, business, or community group announcements for the upcoming Ledger Magazine (April – June 2016) by March 18th to be included in the next edition.
Special thanks to everyone who have supported New Bern Now's website and Ledger Magazine. We're celebrating our 7th year Anniversary in April. The Ledger is a mini-version of the website. The current edition is available in color, online and the hardcopies are distributed throughout the greater New Bern area and beyond.
You can make a difference by advertising with us to help cover the cost of printing. Rates start at $12 per month!  Contact us today as the space is limited – first come, first serve! This is a great way to reach thousands of people looking for local information.
Our audience is comprised of residents and visitors to the Greater New Bern area who are looking for positive information about our community.
We've referenced over 1,000 local businesses and non-profits for free over the years and we have a special opportunity to help set your business or non-profit apart from the rest. This is a win-win situation for your organization and New Bern Now!
Our mission is to promote local businesses and non-profits without charging expensive advertising fees.
Please let us know if you're interested in supporting our efforts by calling 252-638-6858 or sending an email.
We look forward to helping spread the word about the latest happenings throughout the greater New Bern area!
Visit New Bern Now's Facebook page or sign up for the latest updates by submitting your email address in the right margin on New Bern Now's website.
Thank you,
Wendy Card, Owner, New Bern Now