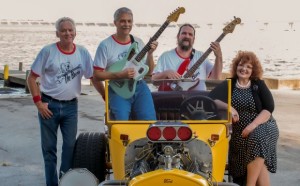 The Bears, New Bern's favorite oldies band, will perform at the New Bern Elks Lodge Saturday, March 19. The Bears' "way back machine" will entertain you with all your favorite songs from years past, and a few Irish favorites too. Be sure to bring your dancing shoes!
Who are The Bears?
– Steve Latimer is "Baby Bear", the band's youngest member. Steve sings and plays his amazingly versatile guitar.
– Janet Montero is "Mama Bear": she sings and plays bass.
– Pat Engeman, "Yogi Bear" is the drummer, as well as a singer.
– Simon Spalding is "California Bear": he plays bass, fiddle, and guitar.
The music will play from 7:00 to 10:00 pm.
The Elks Lodge is located at 1175 Pine Tree Drive  (next to Knights of Columbus, turn at Cookout on 17, then proceed about ¾ mile up the road).
Call (252) 638-8116 for information. Admission is $6 per person.
There is a pot-luck supper preceding the music, for information on the pot-luck, call 252-638-8116 or e-mail "Skip".
For more about The Bears, check out the band at TheBears.Band. For bookings, contact Pat Engeman at 678-205-7309.
Submitted by: Simon Spalding