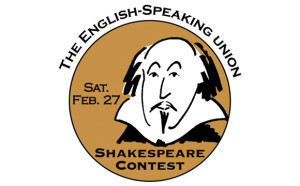 There will be many events in 2016 in North Carolina honoring William Shakespeare on the 400th anniversary of his death. Among many statewide presentations, the North Carolina Museum of History in Raleigh will be exhibiting "First Folio! The Book That Gave Us Shakespeare". This 1623 work will be on display May 7 – 30th.
Closer to home, New Bern's RiverTowne Players will be performing "Macbeth" the weekends of February 12th and 19th and the New Bern Civic Theatre will present "A Midsummer Night's Dream" the weekend of August 19th.
New Bern's Colonial N.C. Branch of the English-Speaking Union (ESU) will be celebrating the "Bard of Avon" as well with two upcoming events of their own. On Saturday, February 27th at 10:00 a.m. they and co-host Craven Community College will hold the annual Shakespeare Competition at the college's Orringer Auditorium. This competition is part of a curriculum-based program designed to help high school students develop their speaking and critical thinking skills and their appreciation of literature as they explore the beautiful language and timeless themes in Shakespeare's works. In the competition each student will perform a monologue from Shakespeare's plays and recite one of his sonnets. Students from Craven, Pitt, and Beaufort County high schools will be among the competitors. The public is invited to this enjoyable and inspiring free event.
In the spring, the winners of all local ESU branch competitions will go on to New York City to take part in the ESU National Competition semi-finals held at Lincoln Center where they will repeat their performances. In the last phase of the competition those students who are selected as finalists will present a cold reading of a monologue
from one of Shakespeare's plays. The winner of the National Competition will receive a full tuition scholarship to the Royal Academy of Dramatic Arts Young Actors Summer School in London, England. There will be other awards as well.
On Saturday, March 5th, at 6:00 p.m. the branch will host the first annual "Shakespeare in New Bern" dinner to be held at the First South Bank, 412 South Front Street (opposite the Farmers' Market). It is to benefit the annual ESU Shakespeare Competition. It is being sponsored by many local businesses and individuals, the Title Sponsor being First Citizens Bank. It will feature a four-course meal inspired by scenes from Shakespeare's plays, spiced with several acting performances and Elizabethan dulcimer music played by Thursday Morn. Featured performers include the three witches and Hecate from Rivertowne's Macbeth production. A trivia contest based on Shakespeare and his works will follow. There will be a cash bar. The price of the dinner is $35.00 per person. Those who wish to attend should make their checks payable to the Colonial N.C. Branch of the ESU and remit to Carolyn Peterson, 516 Middle Street, New Bern, NC 28560.
The English-Speaking Union celebrates English as a shared language to foster global understanding and goodwill by providing educational and cultural opportunities for students, educators and members. It is a non-profit, non-political organization. For further information contact Bob Husson, President of the Colonial N.C. Branch.
Submitted by: Jean Albanese, The English-Speaking Union