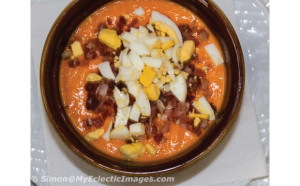 Do you love to travel, but the cost of feeding the family while on vacation makes you lose your appetite? Here are some tips to help you keep everyone full without emptying your pockets.
1. A taste of home: It may sound obvious, but bring as much food as is practical from your own pantry and fridge. This is much easier when taking a road trip, because you can pack a cooler full of drinks, sandwiches, cut-up vegetables and fruit. A picnic is a fun break from all that time in the car, and far more nutritious than the jungle of fast-food options beckoning you at every exit.
2. Adjust your schedule: Whether traveling overseas or to a neighboring state, lunch is likely to be your best bargain. Many restaurants have reasonably priced lunch specials, and if you make this your main meal of the day, you can enjoy a lighter, less expensive dinner. In Madrid, my husband and I could get a three course meal, which included appetizer, main course, bread, dessert and a choice of beer, wine or nonalcoholic beverage of choice for around $12.
3. Bulk up on breakfast: If you have the stomach for a big meal to start your day, you may find yourself able to hold out until dinner with a snack of fruit, granola bar, or the kids' choice, ice cream. Traveling in the U.K. lends itself especially well to this plan, as the average bed and breakfast will serve up a giant plate of eggs, bacon and/or sausage, fried bread, sautéed mushrooms, tomatoes and a bowl of cut fresh fruit to get you on your way.
4. Take advantage of seasonal produce at local markets: Whether you are staying in a cottage or a hotel, you should definitely check out the bounty available to you nearby. If you have access to a small fridge and/or microwave, you've got it made. When we were in Tuscany, we would have lunch at a small family-owned eatery while sightseeing, then pick up fresh bread, decadent cheeses, olives, salami, and pickled vegetables to take back to our bed and breakfast.
5. Stay away from tourist traps: Barcelona can be pricy when it comes to restaurant dining, even at lunch time. Pricy, that is if you gravitate to eateries located in the many squares around the city. However, if you wander down side streets, you can find restaurants serving the same fare for about a third less than their more visible counterparts. This is true almost anywhere. If the place is high profile, it's usually high priced as well.
6. Ask a local: Not sure if that out-of-the-way diner is any good? Ask a hotel desk clerk, shop clerk or passerby. They live and eat there, so are unlikely to steer you wrong. I once asked the man repairing our hotel room blinds about where he likes to eat, and, later that day, we found ourselves chowing down on the best oyster po-boys in New Orleans. Even better, they were a bargain.
7. Go ethnic: If the kids are adventurous eaters, you can find inexpensive, low-cost meals at Asian and other ethnic hole-in-the-wall family-run restaurants. Tips #2 and #6 apply here.
These are just a few ideas on how to enjoy your vacation, while saving money on dining. No doubt, there are more, and the more you avoid blowing the entire vacation budget on food, the more dough you'll have left to invest in attractions and activities.
By Contributing Author, Penny Zibula, Six Legs Will Travel