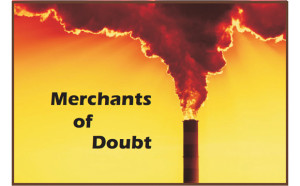 Thursday, March 3, 2016 at 6:30 pm
Trent River Coffee Company,
208 Craven Street, New Bern
Learn how the fossil-fuel industry has created doubt about climate change to block government action on climate, just like the tobacco industry and the drug manufacturers deceived the public before them.
This 90-minute documentary exposes a concerted strategy to create doubt about the facts of climate change through the use of pundits-for-hire who present themselves as scientific authorities. Based on the book by Naomi Oreskes, the film interviews industry reps, global warming deniers, environmentalists, and climate scientists to create a riveting behind-the scenes look at how the fossil fuel industry has been so successful in blocking government action on climate. Rated PG-13. For more information on this film, click here.
Co-sponsored by the Carolina Nature Coalition and North Carolina Interfaith Power and Light.
The Carolina Nature Coalition is a community organization whose mission is to raise public awareness of environmental issues and engage citizens in meaningful community action.
Submitted by: Constance Casey