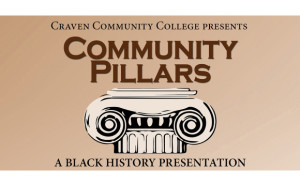 Friday, February 26, 2016 from 6 – 7:30pm
Orringer Auditorium on the New Bern Campus
Craven Community College (CCC) invites the public to the "Community Pillars" Black History Month performance.
"This year's performance features a few people and organizations that have become part of our community's history as a result of their enduring leadership and service," said Kimberley Clark, CCC campus life coordinator. Clark said a committee of faculty, staff and students drew from their personal knowledge of local history to select this year's honorees.
CCC honors Black History month each year. This year, CCC Student Services will honor New Bern's black history with a tribute to the following community members who have made an impact throughout our history through their acts of service:
The Dove family – Oscar's Mortuary
Dr. Sydney Barnwell – 1st Black General Surgeon, and Mary Barnwell, wife and former CCC instructor
Levonia Porter Frazier – 1st Black Pepsi Model
Mike Swindell – Community Barber for the last 49 years at Mike's Barber
CCC Pillars – Earl Murphy, former director of occupational extension; and Hazel Neal, former cosmetology instructor
There will be performances by CCC and high school students in honor of each of the Community Pillars. Performances include: 3 Grace Ensemble, CCC barbering students, interpretive dancer Janiaritalani Bowen, Mo Music Band, Omega Psi Phi Scholars, and Shea White.
This event is FREE.
About Craven Community College:
Founded in 1965, Craven Community College is part of the North Carolina Community College System. With campuses in New Bern and Havelock-Cherry Point, Craven serves about 3,200 curriculum students and more than 10,000 continuing education students each year. The college offers a wide range of associate degree and certificate programs, as well as college transfer courses, career and occupational offerings, partnerships with four-year universities, specialized workforce training options, developmental studies and basic skills classes. Craven Early College High School programs are available on both campuses. Craven is also home to Public Radio East, one of the few community colleges nationally with this distinction. For more information about the college, visit www.cravencc.edu.
Submitted by: Deborah Kania, Director of Marketing, Communications & Development Liaison, Craven Community College