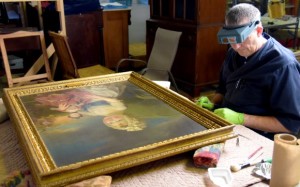 Tryon Palace will offer behind-the-scenes tours every Tuesday in February. All tours will begin at 2p.m. from the Waystation, located on the corner of Pollock and George streets, and alternate weekly between the Costume Shop, Conservation Lab and gardens.
Tryon Palace's first and last behind-the-scenes tours of the month will take place in the costume shop Feb. 2 and Feb. 23. Tours will be led by historic clothing interpreter Leslie Lambrecht and held inside the historic Jones House, which serves as the home of the Tryon Palace Costume Shop.
The costumer will discuss research techniques used to ensure the costumes are produced using historically accurate techniques and fabrics. Visitors may also see the costume team at work creating, tailoring and mending costumes to be featured in events at Tryon Palace throughout the year.
Tours of the Conservation Lab will return to Tryon Palace Feb. 9. Visitors will learn how Tryon Palace's conservation staff cares for the thousands of pieces of antique furniture, works of art and artifacts in the collection. The tour will also include a look at how conservation staff care for and prepare artifacts for upcoming exhibits.
Behind-the-scenes tours of the 16 acres of Tryon Palace Gardens will also resume Tuesday, Feb. 16. Tryon Palace gardeners will lead a tour to view what is blooming in the winter gardens, which currently includes camellia, cornus mas, kerria, viburnum, witch-hazel, jonquils, hellebore and pansies.
Admission to all behind-the-scenes tours is included with a One Day Pass or purchased separately at a cost of $6 for adults and $3 for students.
For more information call 252-639-3500 or visit TryonPalace.org.
Upcoming events at Tryon Palace include:
February 6: Tryon Palace Free Day
February 11: Tryon's Tots: Quilts
February 18: The Color of Courage
February 19: Lunch and Learn – Black Voices: Former Slave Narratives from the 18th and 19th Centuries
Submitted by: Craig Ramey, Marketing and Communications Manager, Tryon Palace