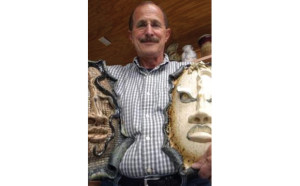 Two more potters have joined the ranks, donating their time and talent to the First Annual Potters Throwdown for Empty Bowls. Carolyn Curran and Mike Rock have spurred the group to increase their "Bowl Goal" to an even more ambitious 400 within three hours. All bowls thrown on the potters' wheels will be donated to Empty Bowls, a joint outreach between Craven Arts Council & Gallery and Religious Community Services. Craven Arts Council has pledged 50 pounds of clay to each artist, as well as they will be providing refreshments for spectators. Members of the public are welcome to attend the throwdown to help assist the potters, or just to watch the pottery taking life.  The event will be January 8th, from 5 to 8 pm, held at the Bank of the Arts at 317 Middle St.
Meet the Potters:
Rich Daniels of Daniels Art Glass and Pottery in Pollocksville is a retired Marine Lt. Colonel who took up fine art after retiring from the Marine Corps in 1999. He makes beautiful stained glass and slump glass as well as pottery. His pottery tends to be highly textured, finished with glazes in cool tones.
Carolyn Curran is an expert in miniatures, Carolyn Curran has been a career potter for decades. Her work is often characterized by simple, clean lines with a dash of whimsy.
Shelly Mathiot of Bear Hands Art Factory in New Bern does both wheel and slab work with clay.  Her pieces have an Americana-flavor design, and are often functional.
Mike Rock is a recent ECU graduate and new to the New Bern area. He describes his pottery as "graffiti inspired." Mike likes throwing thicker pieces, then carving into them with sharp, interlocking lines.
Brent Wheelwright specializes in Japanese-inspired Raku pottery, and is able to throw very large pieces with elegant lines. His hallmark designs are horsehair and bright colored glazes with bold shapes.
Scott Haines of Bridges Street Pottery in Morehead City has been a potter since the age of 14. His trademark pieces are tall pots and vases with lovely necks, as well as pottery made of stoneware and in the tradition of Raku.
Alessandro Cagiati of Vicious Circle Studios in New Bern believes that his work should be functional as well as aesthetically pleasing.  His art's signature features are dipped glazes in rich hues, as well as ornate handles.
For more information, please call The Craven Arts Council and Gallery at the Bank of the Arts, 317 Middle St. at 252-638-2577.
Submitted by: Beth Ellis, Marketing and Gallery Director, Craven Arts Council and Gallery