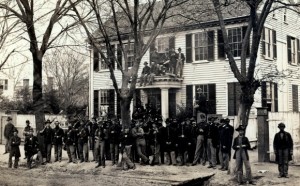 Peter Sandbeck Returns to New Bern for Historical Society Lunch & Learn
A federally-occupied town throughout most of the Civil War, New Bern was filled with Union Soldiers and their many followers. This occupation attracted numerous photographers who plied their trade all over town, taking both official and personal photos. Their work created a unique photographic record that captured the essence of New Bern as it looked on the eve of the Civil War. Peter Sandbeck, Cultural Resources Coordinator for Orange County's Division of Natural and Cultural Resources will present a fascinating look at New Bern's rich photographic history during the 1860s at the February 10 Historical Society Lunch & Learn.
Sandbeck is a historic preservation consultant and the author of a comprehensive guide to architecture in Craven County, NC entitled The Historic Architecture of New Bern and Craven County, North Carolina. His book is considered the authority when it comes to New Bern structures.  Prior to his current position, Peter worked at the North Carolina Department of Cultural Resources, State Historic Preservation Office. He was also the architectural historian at Tryon Palace and a project administrator at Colonial Williamsburg. Sandbeck received his BA in architectural history from the University of Virginia and has written numerous articles in historic preservation journals and newsletters. He is a lively and well-informed speaker.
Lunch & Learn starts at 11:30 a.m. at the Chelsea Restaurant at 335 Middle Street in New Bern. Tickets are $16 for Historical Society members and $18 for non-members; lunch is included. Tickets must be purchased in advance by calling the New Bern Historical Society at 252-638-8558, or can be ordered on-line at NewBernHistorical.org. Lunch choices are: Brown Butter Chicken with Rice Pilaf and seasonal vegetable and Shrimp Newburg in a mushroom, tomato and lobster sauce served over pasta.
Submitted by: Kathy Morrison, New Bern Historical Society