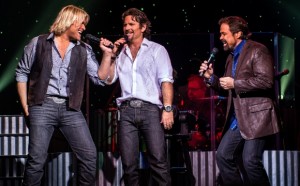 Ticket Sales Brisk, Preparations Underway
We enjoyed our interview with Kathy Morrison with the New Bern Historical Society. It's being aired on New Bern's News Talk Radio WNOS 107.5 and 1450AM. Listen to Laura Johnson's interview with Kathy here:

The Texas Tenors are the #1 vocal group in the history of popular television show, America's Got Talent. They are winners of 3 Emmy Awards for their PBS special, You Should Dream. They are featured at the Starlite Theatre in Branson, MO where TripAdvisor names them the #1 attraction in the area.  And they are coming to New Bern! Eastern North Carolina will be able to experience The Texas Tenors live when the New Bern Historical Society brings this outstanding group to the New Bern Riverfront Convention Center on February 18, 2016 at 7:30 pm. This will be the 6th in the Society's fundraising concert series.
The Texas Tenors is one of the hottest new groups to hit the country music crossover scene. This charismatic and talented trio performs great music from the worlds of country, folk, classical and Broadway, and will entertain you with breathtaking vocals, humor and a bit of cowboy charm. Since their whirlwind debut five years ago on NBC's America's Got Talent, The Texas Tenors have accumulated a long list of awards, accolades and fans. They have performed more than 800 concerts around the world.
"We are thrilled to have The Texas Tenors here in New Bern!" says steering committee chair Kathy Morrison. "Not only are they hugely talented, they are great people. It's terrific to see the tickets moving like they did for last year's sold out concert Under the Streetlamp."
Tickets are $35 + tax for General Admission seating, $55 + tax for Preferred seating, and $125 for Sponsor seating front and center with access to a special meet and greet before the show. For more information, or to buy tickets, go to NewBernHistorical.org/tickets or call 252-638-8558. The New Bern Historical Society will be donating a block of tickets to the Wounded Warriors program. If you are interested in helping with additional tickets for Wounded Warriors, call the Historical Society office.  Title sponsor:  Doubletree by Hilton, New Bern. Media sponsors: Bear Radio 97.9, Public Radio East, CTV10, New Bern Sun Journal and WRNS.
Submitted by: Kathy Morrison, New Bern Historical Society