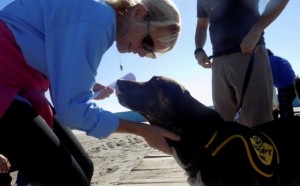 We enjoyed our interview with April Randolph, Coordinator for the Colonial Capital Humane Society's New Human Walking Program. It's being aired on New Bern's News Talk Radio WNOS 107.5 and 1450AM. Listen to Laura Johnson's interview with April here:

This Saturday, January 30th from 11 am – 2pm, Colonial Capital Humane Society (CCHS) will sponsor the first of its kind, the 1st Walk the Waterfront Adopt-A-Thon at Union Point Park near the gazebo!
We've come to the realization that while it is true that our shelter dogs need homes, it very well may be us, the humans, who could really use the rescuing!
CCHS is committed to helping humans regain happiness & reduce stress in their lives by encouraging everyone to put down their electronic devices (smartphones…we are looking about you!) and to take advantage of this rare opportunity to meet and walk with a very happy 4-legged companion along New Bern's beautiful waterfront path. Just look for the dogs sporting their bright black & yellow adopt me vest while driving over the bridge.
You won't want to miss this Adopt-A-Thon! We hope to have 25+ dogs at this event, all on leash with their human volunteers!
Hot coffee, cider & yummy bake sale items will be available.
Questions regarding CCHS's NEW Human Walking Program may be directed to April Randolph. All other questions, please call 252-633-0146.
Submitted by: April Randolph, Colonial Capital Humane Society, Human Walking Program Coordinator