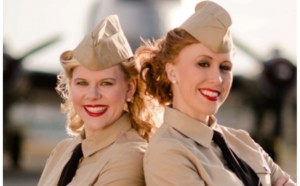 Bombshell Duo promises 'A Christmas to Remember' Friday, Dec. 18
Letters from Home, also known as "America's Bombshell Duo," will deliver a high-energy dose of holiday nostalgia to Tryon Palace's North Carolina History Center with "A Christmas to Remember." Filled with laughter, memories, songs, tap dancing and audience interaction, "A Christmas to Remember" will take place Friday, Dec. 18, from 8 – 9:30pm.
Inspired by traditional USO shows from the 1940s through today, the duo of Erinn Diaz and Serah Haley sings in harmony and tap dances in each of their comedic and moving patriotic performances.
Letters from Home's mission is to honor veterans, active military and their families through the music and spirit of the 1940s. The group has toured over 20 states for performances in theaters, air shows, cruise ships, schools, patriotic celebrations, military bases, veterans hospitals, Veterans of Foreign Wars centers, American Legions and many more.
Tickets are $22 for general admission and 10 percent off for Tryon Palace Foundation Members.
For more information call 252-639-3500 or visit www.tryonpalace.org.
Upcoming events at Tryon Palace include:
Dec. 12: 35th annual Candlelight Christmas Celebration (First Night)
Dec. 18: Lunch and Learn: Candlelight Past and Present
Dec. 19: 35th annual Candlelight Christmas Celebration (Second Night)
Jan. 29: WinterFeast: Oysters, Brews, and Comfort Foods
Submitted by: Craig Ramey, Marketing and Communications, Manager, Tryon Palace