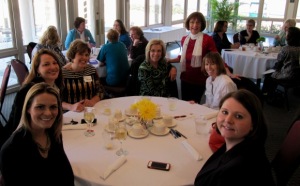 Coastal Women's Forum (CWF) will hold its Holiday Lunch Meeting from noon to 1:00 p.m. on Wednesday, December 16 at the New Bern Golf and Country Club.
Registration will begin at 11:30 a.m. The cost is $15.00 for members and $20.00 for guests. Pre-registration is required by noon on Monday, December 14. Check or cash payment will be accepted at the door.
Join CWF in a celebration of the holiday season with fun, fellowship and giving through donations to the Food Bank of Central and Eastern North Carolina. Please reach into your hearts and pockets by bringing a cash or check donation, as well as a non-perishable food item, to help feed the hungry in our area.
For more information, or to register, contact Lunch Coordinator, Sandy Eichelberger at 301-938-4836.
To learn more about what Coastal Women's Forum has to offer, or to register online, visit CoastalWomensForum.com.
Submitted by: Penny Zibula, Six Legs will Travel Writer