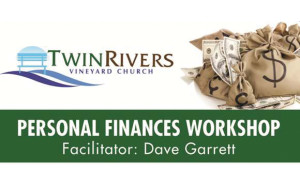 November 14th from 9:00am – 11:00am
Have you ever wondered where all your money goes? Do you have difficulties balancing your budget? Do you get to the end of the month and not have enough money left to cover that last bill? Do you want to know what the Bible says about money and finances?
If you answered yes to any of these questions, you are not alone.
We will be addressing these important questions and help lay some practical groundwork to help you better manage your personal finances.
Cost: $10 (some scholarships available).
Dr. Bill Gurkin for Scouting Ministries located at 4143 Dr MLK Jr. Blvd., New Bern.
For more information please call Dave Garrett at 717-575-4664.
Submitted by: Dave Garrett, Pastor, Twin Rivers Vineyard Church