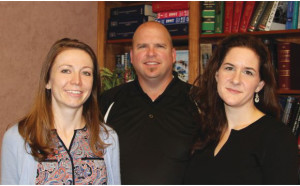 New Physician Assistants Join the Practice
Carolina Orthopedics Sports Medicine and Physical Therapy, eastern North Carolina's premier practice for orthopedic and therapeutic care, continues to expand their experienced staff of medical professionals.  Three new physician assistants (PA), Christopher Miles, Alicia McCarroll and Christina McOwen, recently joined the team of over 25 doctors, PA's, athletic trainers, and physical and occupational therapists.
"Our mission is to provide exceptional service to our patients and that means bringing in top talent to our practice," said Tracy Watkins, Practice Manager at Carolina Orthopedics.  "As our staff grows, so does our knowledge base and our ability to offer the latest advances in patient care."
Christopher Miles, PA-C, is originally from San Antonio, Texas and attended high school in Madrid, Spain. He served in the US Army during Desert Storm as a combat medic with the 1st Cavalry Division and received the combat medical badge and two Army Commendation medals for his service related duties. In 1996, he graduated Physician Assistant training in Ohio followed by fellowships in Emergency Medicine and Orthopedics Surgery/Sports Medicine. He has been practicing medicine in the Carolina's since 1997 with specific interests in joint reconstruction/replacement and sports medicine.
Alicia McCarroll, PA-C, earned her Bachelor of Science degree in Applied Health Science from Wheaton College in Wheaton, IL in 2007. She graduate from the Physician Assistant Program at Trevecca Nazarene University in Nashville, TN in 2012 with a Master of Science in Medicine Degree. She worked with a Neurosurgery group in Tennessee prior to joining Carolina Orthopedics.
Christina McOwen, PA-C, R.T. (R) completed her Associates in Science degree, majoring in Radiographic Science, in 2003 at Carteret Community College. She completed her Bachelor in Healthcare Management in 2009 at East Carolina University.  She received her Masters in Physician Assistant Studies from the University of North Dakota in Grand Forks, ND in 2015.  Before joining Carolina Orthopedic and Sports Medicine she worked for 14 years at Carolina East Medical Center as a Radiographic Technologist.
"Each new team member brings unique experiences and training that will only make our practice stronger," continued Watkins.
With offices in New Bern, Havelock and Jacksonville, Carolina Orthopedics offers a full range of services such as physical and occupational therapy to combat conditions such a back pain, arthritis, sports or work-related injuries, fractures, and growth abnormalities.  Carolina Orthopedics also performs surgical procedures including joint replacement, osteotomy, and soft tissue repair.
The organization also recently launched a new look and brand, including a new logo, advertising campaign, updated patient materials and a new website.
Please visit CarolinaOrthopedics.com to learn more about the services provided by Carolina Orthopedics or to request an appointment.  To request an interview with the new hires or Tracy Watkins, please call 252-634-2676.
Submitted by: Haley Krofchick, Current Communications