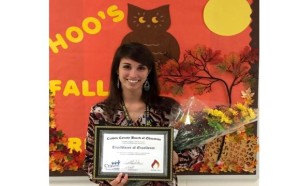 Craven County Board of Education and Havelock Elementary spotlighted Ms. Melody Conner.  She engages each and every student in her classroom every day with her innovative approach to teaching.  This invites her students to be a part of a learning environment where all types of learners thrive.
Her positive attitude and warmth sets the tone in her classroom and radiates throughout the school. She is dedicated, committed to teaching, and extremely passionate about assuring that all students are successful. She is also committed to being a learner herself.  She is a member of the District Literacy Professional Learning Community.  As a member of this PLC, she not only embraces new ways to present instruction that will benefit her students, but she also shares best practices with her colleagues within the PLC and teachers at Havelock Elementary.
Havelock Elementary School is blessed to have her as a part of their school family and they are very proud of her. Congratulations, Ms. Connor!
Submitted by: Jennifer Wagner, Director of Public Relations, Craven County Schools