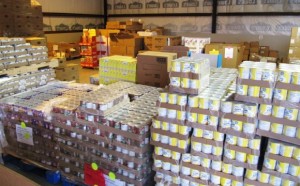 Coastal Women's Forum President Encourages Members to Help Feed the Hungry
"I can always find something to eat," said Coastal Women's Forum (CWF) President, MaryAnn Jordan Yates. "It might not be exactly what I want, but it would sustain me. There are people who don't have anything. They open their refrigerator, and there's nothing there." It was this realization that helped MaryAnn decide to make the New Bern Branch of the Food Bank of Central and Eastern North Carolina (FBCENC) her charity for 2015.
It is an annual CWF tradition for the president to select a charity, and encourage each member to make a donation in support of the organization at the two December meetings.
It was at a fundraiser for FBCENC that MaryAnn made a discovery that would lead to her decision to utilize her position as CWF President to rally the membership around this particular cause. "I realized the number of people that go hungry," she explained, "I've never really been faced with that."
The New Bern and Greenville Branches of FBCENC serve a total of five counties. In the five years that the New Bern Branch has been in operation, over 9.2 million pounds of food has been distributed to the approximately 63,000 individuals, one third of which are children under 18, who live with food insecurity. This means they do not know when, or from where, their next meal will come.
So who are these people? Deadbeats? Full-time moochers? Perhaps some are, but the vast majority of recipients of food are among the working poor living at, or below, the poverty line. Among Food Bank clients the unemployment rate is 7.9 percent. They are people who work a limited number of hours and/or earn little for their efforts. Many are Burmese refugees, and immigrants from other nations, as well as North Carolinians who have fallen on hard times..
The food comes from wholesalers, retailers and grocery stores. While a combination of food and cash is collected through food drives, fundraisers and individual donations. Out of every dollar, 97 cents is spent on food distribution, and feeds five people
There is a strong emphasis on providing nutritious food. To this end, a community garden next to the New Bern FBCENC building has generated over 12,000 pounds of fresh produce. A donation of a walk-in freezer has added to the organization's ability to provide nutritious food.
Lance was unemployed, hungry and had hit rock bottom when he first entered a Virginia food bank. His physical hunger was satisfied, but his soul was also fed. "I will never forget being treated with dignity and respect," he recalled. "What I needed more than anything that day was to feel like a human being during a tough time".
Fast forward 13 years. Lance has a growing family and is gainfully employed. What does Lance do for a living? Lance Barton is FBCENc's new Regional Director. From his experiences as a recipient, and later a volunteer, he is passionate about how clients are treated. He also has plans to grow the organization so that services expand with the needs of the community.
MaryAnne requests that members and guests attending the December 1 dinner meeting and the lunch meeting on December 16 to reach into their hearts and pockets. A cash or check donation and a non-perishable food item from everyone will go a long way to support FBCENC in meeting the critical needs of our area's hungry year-round.
Learn more about FBCENC at FBCENC.org .
Information on Coastal Women's Forum's meetings, projects and goals can be found at CoastalWomensForum.com.
Submitted by: Penny Zibula, Two Write Hands