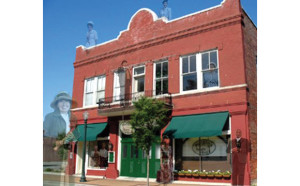 Support the New Bern Historical Society and Ghostwalk on October 21
Popular downtown restaurant, Morgan's Tavern & Grill will help launch the New Bern Historical Society's 25th Annual Ghostwalk. In a generous offer, the restaurant will offer a percentage of both their lunch and dinner proceeds on Wednesday October 21 to the New Bern Historical Society. According to Executive Director Lynne Harakal, "We would like to thank Morgan's for this wonderful fundraising event that benefits the Historical Society. We hope as many people as possible will patronize Morgan's on October 21st to support both the local restaurant and the New Bern Historical Society; then be ready for all the fun of Ghostwalk on October 22-24."
Ghostwalk is an annual event where New Bern's historic spirits return to their haunts to tell their tales to the living. Local actors bring the characters to life in historic homes and churches. As is the tradition, there is an especially lively group in Cedar Grove Cemetery. This year there will be 16 different ghost haunts with spirits lurking among the living from October 22-24. Be on the lookout for ghosts sharing lots of family memories in the Historic District those evenings.
Hauntings begin Thursday, October 22, from 6:30 p.m. to 9:30 p.m. Expect ghost sightings at the cemetery and entertainment at the Athens and Masonic theatres and Agony Alley.  An additional twelve ghost sites are open Friday, October 23 and Saturday, October 24 from 5:30 p.m. to 9:30 p.m.
A complete listing of ghost sites can be found at NewBernHistorical.org. Tickets are available on line at NewBernHistorical.org and at local outlets. Check the website for ticket prices and outlet information, or call 252-638-8558.
Submitted by: Kathy Morrison, New Bern Historical Society