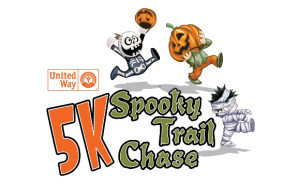 Listen to Sandra Phelps, Executive Director, interview with Laura Johnson:

Don't let the ghosts and goblins scare you from running on October 31st! Join us for the 2nd annual Spooky Trail Chase 5K Run / Walk.  This 5K Trail Run and Frightfully Fun Kid's Fun Run will have your whole family running through the scenic Bender-LeRay Farms in Jones County in your most creative Halloween costume (optional).
At 9:00am the race will begin. You should be there plenty early to park and get ready.
The Spooky 5K Trail Chase is a 5K Run / Walk that travels through the spooky woods in Jones County at the Bender Le-Ray Family Farm.  There are ghosts and goblins lurking all around waiting to greet you!  To survive the race you must to get to the finish line with at least one flag on your flag belt.
At the start of the race you will be given  a flag football belt (life belt) with 2 flags (life lines) on it.  During the race there will be spooky chasers that will try to take these flags from you. If you get to the finish line with a least 1 flag, you are  a survivor.
There will be spare flags (life lines) hidden throughout the Course that you can find and use if you have lost all of your flags.  Hint: it is best to run in groups to try to protect those with few flags left.
Submitted by: Tate Johnson, Resource Development & Marketing Coordinator, United Way of Coastal Carolina, Inc.