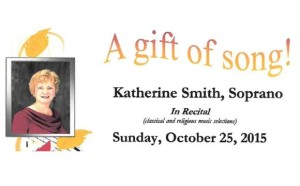 The Catholic Daughters of the Americas – Court Monsignor Michael A. Irwin # 1704 presents "A Gift of Song" with Katherine Smith, Soprano. For this recital, Smith will be accompanied by Cheryl Arthur Kite and a performance by special guest artist, Philip Evancho, Bass. Come join us on Sunday, October 25, 2015 from 2:30 to 4 pm, at Orringer Hall Auditorium – Craven Community College. A special pre-show performance by "Craven Consort" will also be presented. In addition there will be a reception provided by the Catholic Daughters.
For tickets or more information please call Belinda Swager 252-617-0849. You may also buy tickets at the door. Know by supporting this concert the Catholic Daughters will be able to contribute to local charities.
What a great way to spend Sunday afternoon and all for only $10.
Submitted by: Nancy Stewart, Public Relations, Catholic Daughter of the Americas