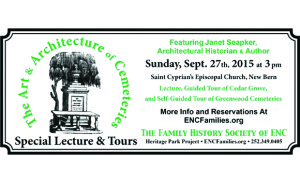 Presented by The Family History Society of Eastern North Carolina
This event will be held on Sunday, September 27th, 2015 at 3 pm at Saint Cyprian's Episcopal Church, 604 Johnson Street, New Bern.
Our guest speaker is Mrs. Janet Seapker, an architectural historian and author. A guided tour of Cedar Grove by Mrs. Seapker and a self-guided tour of Greenwood Cemeteries are also included.
New Bern has a special place in Mrs. Seapker's heart because in the early 1970s, she, along with the nationally known, architectural historian and author Tony P. Wrenn, wrote some 50 nominations for the individual buildings for the New Bern historic district National Register nomination.
The lecture presentation and tours are $20 per person by Friday, September 25th, and $30 afterwards. Space is limited and pre-paid reservations are required. A portion of the proceeds will be donated to the City of New Bern Cemeteries:  Cedar Grove, Greenwood, Evergreen, Bryan-Fordham, and New Bern Memorial for preservation and restoration purposes.
You may pay online or mail your check to FHS of ENC, 1822 S. Glenburnie Road, #112, New Bern, NC 28562.
Our thanks and appreciation to our promoting partners in assisting us with this special event. They are the Craven County Genealogical Society, Dryborough Historic Association, New Bern Historical Society, City of New Bern Parks and Recreation Department, Saint Cyprian's Episcopal Church, the Uptown Business and Professional Association, and all those who are working and have worked so diligently to preserve, restore, and promote the heritage of all of New Bern's cemeteries.
For full event details, visit ENCFamilies.org or call 252-349-0405.
Submitted by: David French, Family History Society of Eastern North Carolina