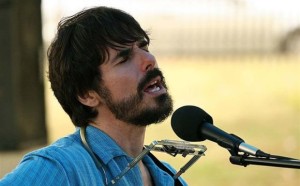 "Music for All Souls"
Friday, September 11, Trent River Coffee Co., New Bern
Saturday, September 12, Clawson's Restaurant, Beaufort
Spook's music draws influences from so many diverse styles – blues, bluegrass, Appalachian and 60's and 70's pop – that it transcends being categorized as simply "folk".
"Spook Handy really understands how to write a good song that says something important". – Pete Seeger
With the huge influence of Pete Seeger as mentor, "California Cool", "Whatcha Gonna Do" and "I aint Afraid" are just a few examples of Spook's work that continue on the tradition of great American folk music.
Come on out and enjoy an evening of Spook Handy's amazing music and stories, as legends continue!
Doors open at 6:30pm, performances start at 7:30pm.
Call or text reservations at 252-646-4657.
Tickets available in New Bern at The Bank of the Arts and Trent River Coffee Company.
Presented by the Down East FolkArts Society
Submitted by: Evelyn Richards